GENERAL RAFFLE
RED RAFFLE TICKETS – $5 each or 5 TICKETS for $20
ITEMS VALUED UP TO $299
BLUE RAFFLE TICKETS – $10 EACH or 5 TICKETS for $40
ITEMS VALUED AT $300 OR MORE
WHITE RAFFLE TICKETS $10 EACH
Our white raffle tickets are for large denomination gift cards or goods at local sporting goods stores.
GRANDE PRIZE ……… TICKETS $10 each
CHOOSE YOUR DESTINATION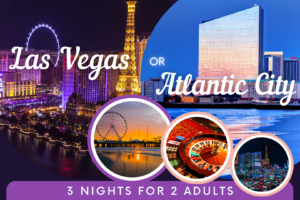 Explore the famous Las Vegas Strip for an exciting hub of gambling, nightlife, theaters, shopping, fine dining, and lavish hotels! Whether you're heading to Las Vegas to celebrate, gamble, take in a Cirque du Soleil show, or catch your favorite musician's residency, you'll find it in the city where people go all out for entertainment.
Atlantic City is a top New Jersey seaside destination with miles of sandy beaches and decadent casino hotels. A wholesome vacation hot spot by day and a glitzy party playground by night, this city offers plenty of things to do for different generations. Romantic dinners overlooking the Atlantic, dancing into the morning hours, or playing the slot machines, an Atlantic City vacation revels in its myriad pleasures.
Las Vegas
3 nights for 2 adults in Las Vegas Helicopter tour OR show tickets
Choice of MGM Grand, New York-New York Hotel & Casino, Mandalay Bay Resort & Casino, or The Mirage.
Atlantic City
3 nights for 2 adults in Atlantic City Helicopter tour OR show tickets
Choice of Caesars, Hard Rock, Ocean Hotel & Casino, Harrah's Hotel & Casino, Golden Nugget, or Borgata Hotel & Casino.
******* PLEASE NOTE *******
This package is valid for a 3-night stay for 2 adults in Las Vegas or Atlantic City and includes either a helicopter tour or show tickets. Helicopter and show options are subject to change and availability without notice. Nightly resort fee is not included. Reservations must be booked at least 60 days in advance. Package expires 24 months after date of purchase. Transportation and airfare not included. Hotel and resort options are subject to change and availability without notice. Group travel and travel with less than 60 days advance booking may be available at an additional cost. Travel during major holidays and Spring Break will require an additional cost.
The Arizona Fallen Hero Memorial Riders reserves the right to cancel this raffle if a sufficient number of tickets are not sold to cover the cost of the reserve. If this occurs, the Arizona Fallen Hero Memorial Riders will raffle the collected money in a 50/50 drawing.

RAFFLE TICKETS ARE NOT TAX DEDUCTIBLE
DOOR & RAFFLE PRIZE OFFICIAL RULES AND REGULATIONS
ELIGIBILITY: Entry purchaser, and anyone to whom an entry purchaser must be an individual 21 years or older, a legal resident of the United States at time of entry purchase and must be a resident of the State of Arizona at the time of entry.
Tickets will only be sold through authorized members, staff members, and designated representatives of the 100 Club of Arizona. Tickets may be purchased onsite during designated registration drives, ride check-in/registration locations and at the barbecues. By law, raffle tickets must be purchased with cash, a separate check or charged to a credit card as separate transactions.
DOOR PRIZE DRAWING: Door prize raffle tickets will be offered for sale and can be purchased at the designated locations mentioned above. The 100 Club of Arizona assumes no responsibility for lost, late, misdirected, mutilated, incomplete, illegible, or non-delivered entries/tickets. Any mutilated, incomplete, or illegible entries/tickets will be deemed invalid and shall be immediately disqualified. All entries/tickets will be entered in the drawings to be held at the barbecues on September 23rd, October 21st, and November 11th, 2023. Winner does not need to be needs to be present to win and the duplicate ticket that matches the drawn winning door prize ticket will be required.
All raffle prizes must be claimed with 30 days or they will be forfeited by the winner
TAX & IRS RULES: All net proceeds benefit 100 Club of Arizona, a non-profit organization operating under paragraph 501(c)(3) of the Internal Revenue Code and the laws of the State of Arizona. The IRS has taken the position that amounts paid for chances to participate in raffles, lotteries or similar programs are not gifts and, therefore, the price of  the raffle entry does not qualify as a deductible charitable contribution or donation for income tax purposes.
NOTICE
Any attempt by any individual, whether or not an entrant, to deliberately damage any website or app associated with the raffle or undermine the content or legitimate operation of the raffle may be a violation of criminal and civil laws. Should such an attempt be made, the Arizona Fallen Hero Memorial Riders will disqualify any such entrant, and/or their respective agents reserve the right to seek damages (including attorneys' fees) and other remedies from any person or persons responsible for the attempt to the fullest extent permitted by law.

Follow Us